Hi! I'm Jack Harner! I'm a web developer and graphic designer based out of Albuquerque, New Mexico. I specialize in developing custom web solutions primarily with WordPress, but good 'ole fashioned HTML/CSS is great too. I strive for clean, maintainable code.
I'm looking for a fast-paced remote position where learning is encouraged, challenges are everchanging, criticism is constructive, and somewhere I can grow as a developer.
Professional Highlights
Marketing Director
Shoolu.com
Implementing Marketing Strategies to drive traffic to our website through Google Adwords, Search Engine Optimization, Social Media Marketing, and more
Updating and improving the customer experience on our website with HTML, CSS, & Javascript
Creating social and email campaigns to drive traffic and customer engagement
Multimedia Design Intern
ASRT
Assist in the design and production of HTML Emails to be sent to members
Test and implement new features on our website and internal tools
Work with the Marketing department to update and maintain content on ASRT.org
Employment Timeline
Skills
Graphic Design
Adobe Illustrator
Adobe Photoshop
Adobe XD
Libraries & Platforms
CakePHP
BigCommerce
Projects I'm Proud Of
OS X Desktop in HTML/CSS
I recreated the Mac OS X Desktop using HTML & CSS on CodePen. It has animated dock icons, selectable desktop icons, and functioning menus. It got featured on the front page of CodePen and got ~ 30,000 views.
I had a lot of fun working on this project because there were a ton of details I needed to pay attention to and I was blown away by the response it got.
Check Out The Full Pen
Material Color Palette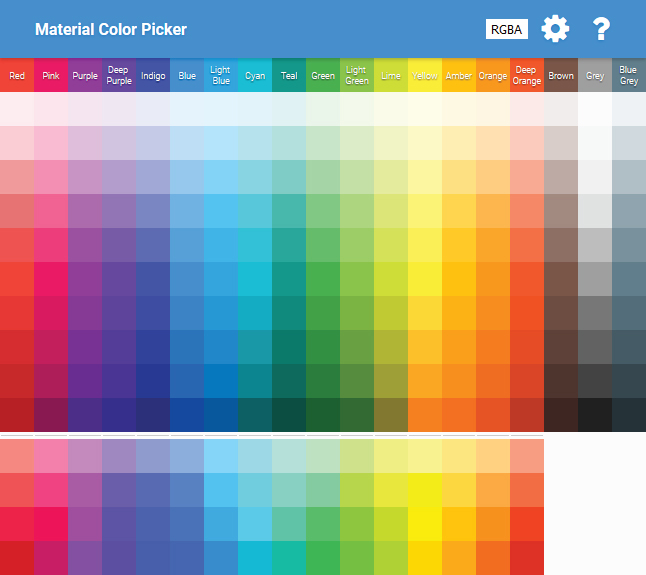 Material Design is a set of guidelines from Google that help create good designs that work well on different screens. Within those guidelines, they have a list of color codes that look good on screens, and work well together.
I got tired of pulling up the docs every time I needed a color, so I created a Firefox/Chrome extension that puts all of the color codes in 4 different formats (HEX, #HEX, RGB, RGBA) right at your fingertips.
Get It On Firefox
Get It On Chrome
Check Out The Source Code
Check Out My Portfolio »
Portfolio Available at HarnerDesigns.com